happy teddy day hindi shayari टेडी डे शायरी हिंदी में
teddy day hindi shayari टेडी डे हिंदी शायरी happy teddy day 2020 special shayari sms quotes status in hindi and english for girlfriend gf, boyfriend bf and other lovers.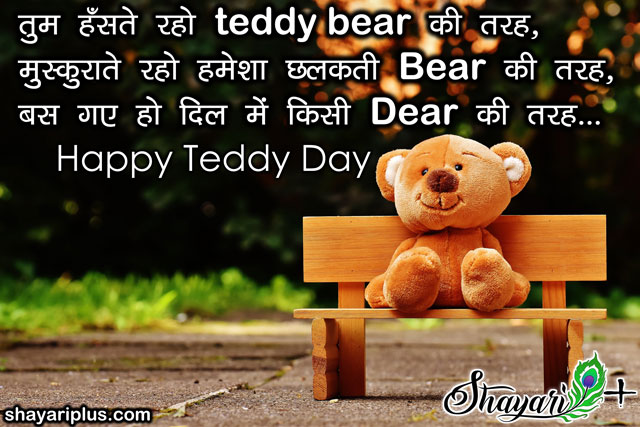 tum hanste raho teddy bear ki tarah,
muskurate raho hamesha chhalakti bear ki tarah,
bas gaye ho dil mein kisi dear ki tarah…
happy teddy bear my dear.
तुम हँसते रहो teddy bear की तरह,
मुस्कुराते रहो हमेशा छलकती Bear की तरह,
बस गए हो दिल में किसी dear की तरह…
Happy Teddy Bear My Dear.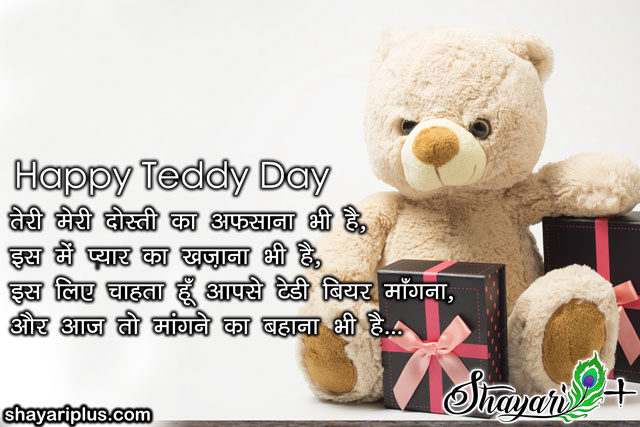 teri meri dosti ka afsana bhi hai,
is mein pyar ka khazana bhi hai,
is liye chahta hun apse teddy bear mangna,
aur aaj to mangne ka bahana bhi hai…
तेरी मेरी दोस्ती का अफसाना भी है,
इस में प्यार का खज़ाना भी है,
इस लिए चाहता हूँ आपसे टेडी बियर माँगना,
और आज तो मांगने का बहाना भी है…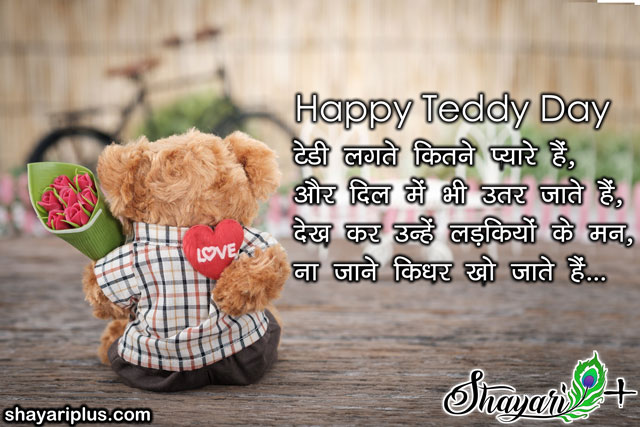 teddy lagte kitne pyare hai,
aur dil mein bhi utar jate hai,
dekh kar unhen ladkiyon ke man,
na jane kidhar kho jate hai…
टेडी लगते कितने प्यारे हैं,
और दिल में भी उतर जाते हैं,
देख कर उन्हें लड़कियों के मन,
ना जाने किधर खो जाते हैं…
bhej raha hu teddy tumhen pyar se,
rakhna tum isko shambhal ke,
mohabat agar hai to bhej do,
mujhe bhi ek teddy pyar se…
happy teddy bear day love.
भेज रहा हूँ टेडी तुम्हें प्यार से,
रखना तुम इसको शम्भाल के,
मोहाबत अगर है तो भेज दो,
मुझे भी एक टेडी प्यार से…
हैप्पी टेडी बेयर डे लव.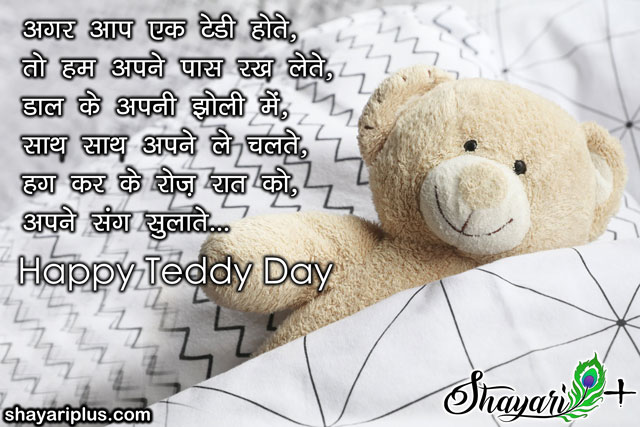 agar aap ek teddy hote,
to ham apne pas rakh lete,
dal ke apni jholi mein,
sath sath apne le chalte,
hug kar ke roj raat ko,
apne sang sulate…
अगर आप एक टेडी होते,
तो हम अपने पास रख लेते,
डाल के अपनी झोली में,
साथ साथ अपने ले चलते,
हग कर के रोज़ रात को,
अपने संग सुलाते…